If you LOVE tactile vintage Barkcloth fabric......
If you ADORE prints in tropical, plumed, floral and atomic...
If you GASP with delight when you see gaudy and odd color combinations....
If you feel NOSTALGIC when you think about the 1940s & 1950s regardless of your age
Oh Lucy!...
for the Love of Pete
!
Grab a cup of coffee and visit Valerie's etsy shop...For The Love of Pete...
"Easy to Love Barkcloth Bags-Inspired by a Sailor!"
She's a skilled artisan who creates beautifully constructed Vintage Barkcloth bags that are irresistible! Each bag is listed with delightful photos, a theme and a lovely dedication to Pete...A marvelous variety of style, color and pattern in vintage Barkcloth fabrics!
My new favorite Clutch, with a luscious vintage button accent: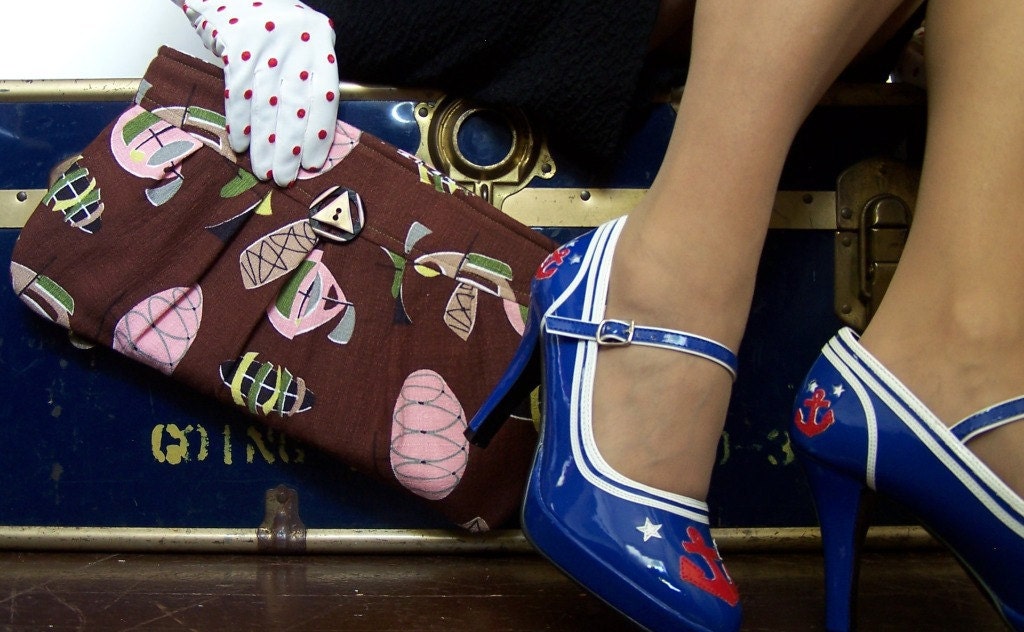 The yummy colors are Cocoa brown, Salmon pink, Olive green, Steel gray and black. Valerie has finessed the fabric to both retain the marvelous Eams era pattern and create a roomy, high quality clutch bag with a secure magnetic closure..... Did I mention I LOVE this clutch?...Thanks Valerie!
********************
Additional drool-worthy Barkcloth entertainment:
**Sherry DeGrave's is building a photo catalogue of
Vintage Barkcloth Style Names
on the Image Event site. It's a work in progress, currently showing over 500 different pattern styles.
**
On the 'Quilter's Muse Virtual Museum' site,
Bark Cloth Then and Now
by Patricia L. Cummings.
**********************************
Happy Barkcloth Tuesday!!